Post views:
3 comments Links to this post


Related Posts: Compromising with Actor, Hot Smooch, Intimate Scene, Lip - Lip Kiss, Shriya Saran
Post views:
0 comments Links to this post


Related Posts: Farzana, Lip - Lip Kiss
Post views: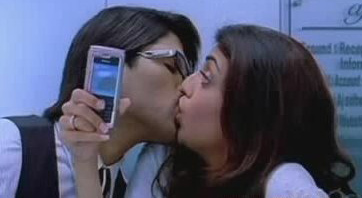 Telugu film industry is a place where sentiments play a major role. After the super success of 'Parugu,' Allu Arjun who always strives for new concepts has agreed for 'Arya 2' keeping his regular cine sentiments away. For the sake of mass audience director Sukumar has even forcibly inserted the lip kiss scene with Kajal Agarwal which was enjoyed thoroughly by audience but doesn't help in building up new records. Result is that with movie remained an average grosser disappointing the Mega and Stylish fans.
Again keeping away the sentiment, Gunasekhar too followed the lip kiss formula between Bunny and Bhanusri Mehra in 'Varudu' which was declared a historical disaster of the season. Now, even 'Vedam' which had a timely lip kiss between Arjun and Deeksha Seth is getting rave reviews but commercial success of the movie is a big doubt as B and C class audience out rightly rejected the movie.
With such a bad track record for Allu Arjun lips,
tamanna
the main lead in 'Badrinath' is known to be disagreeing with any kind of such hot lip locks. By the way
tamanna
believes in these kinds of sentiments badly and this was the reason why she is now the numero uno in Kollywood.
Let us see, will Bunny agree with
tamanna
's request or forcibly insert a scene with all support from VV Vinayak.
0 comments Links to this post


Related Posts: kajal, Lip - Lip Kiss
Post views:

JYOTHIKA'S BIOGRAPHY :

Jyothika enjoyed a successful run in cinema for nearly a decade, leaving behind spectacular performances in movies like Khushi, Chandramukhi and Mozhi.

Basics on Jyothika
Jyothika Sadanah was born on 18th October 1978 in Mumbai, India. Her nick name is Jo. After finishing school at Learners Academy School, she joined Mithibhai College of Arts to study Psychology but did not complete it as she started her acting career.

After dating actor Surya for three years, they tied the knot in 2006 and have a daughter called Diya.

Jyothika's Movies
1998 to 2002 Jyothika's first movie was a Bollywood love story Doli Saja Ke Rakhna (1998) with Akshaye Khanna. After a special appearance in a Tamil movie Vaali (1999) she starred in the lead role in Poovellam Kettuppar (1999) opposite Surya.

She was in the high grosser Mugavari (2000) while Khushi (2000) became a blockbuster and she won the Filmfare Best Tamil Actress Award. The following year Thenali (2001), which starred Kamal Hasan and Jayaram became a hit.

Her releases in 2002 were Raja, Little John and 123.

2003 to 2007 In 2003, many of her movies did well like Kaaka Kaaka, Thirumalai and Dhool. In Perazhagan (2004) she was seen in a dual role opposite Surya, who also played a double role. She won the Tamil Nadu State Film Award for Best Actress.

Her role in Chandramukhi (2005) as Ganga who has a split personality was widely appreciated and she walked away with another Tamil Nadu State Film Award for Best Actress. It was one of the biggest blockbusters that Tamil cinema had seen.

Jyothika was seen in movies like Vettaiyadu Villaiyadu (2006), Sillunu Oru Kaadhal (2006) and Pachaikili Muthucharam where she played a negative character for the first time in her career. She played a deaf mute girl in Mozhi (2007) with Prithviraj. The movie received a good response, which was unexpected.
0 comments Links to this post


Related Posts: Hot family actress, Jyothika, Lip - Lip Kiss
Post views:
Sanjana takes a modeling break :
Following an impressive role in Bujjigadu, Sanjana's career is shaping up better in Tollywood with interesting

films like Samardhudu and Satyameva Jeyathe in the pipeline.
Luckily, both the roles are as different as chalk and cheese," says the pretty actress

, who made her mark in Kannada films with Ganda Hendathi and Autograph Please.
"I am equally excited about my interesting role in a bilingual film Police Police, reveals the model-turned-actress, who claims to have a taken a break from endorsing products. "At the moment my focus is only on films and modeling can surely wait," concludes the up and coming actress. Hope her big screen dreams turn fruitful.
1 comment Links to this post


Related Posts: boob press, Compromising with Actor, Lip - Lip Kiss, Sanjana
Post views:

Kajal Agarwal – Lady on song :


Confirming rumors that Saran's 'Modhi Vilayadu' is all about the concept of 'rebirth', actress Kajal Agarwal has said she plays the role of a girl, who dies in 1400 AD and is born again to join hands with her lover.
'It's an out and out commercial script. Saran sir's treatment is amazing. He had worked hard to recreate 1400 in each and every aspect. I bet that everyone would love the film,' says Kajal, with all excitement.
On 'Saroja', she says, "Though my role is small, it is powerful. The film is all about some extraordinary things on an ordinary day."
"I want to be a good performer and perform both homely and glamour roles", she says adding: "The industry is no more a male-dominated one. There are enough opportunities for heroines to excel", she says.
"I am doing two untitled ventures in Telugu. I am acting in a Ramcharan Teja's movie and a sequel to 'Arya' opposite Allu Arjun", she adds.
1 comment Links to this post


Related Posts: cute, kajal, Lip - Lip Kiss
Post views:

In a unique, first of its kind experience on television, NDTV Imagine presents a new reality show that traces the journey of a bride-to-be, from selecting her groom to the marriage ceremony, all captured on television. In a move that is true to her expressive personality, the bride-in-waiting Rakhi Sawant has chosen to search for her real life-partner on Imagine's new reality show Rakhi Ka Swayamvar . Rakhi is taking matters of the heart into her own hands with a nationwide search for her perfect husband along with the support of the audiences. After exhaustive challenges and eliminations, Rakhi will take the saath-pheras with her husband in a grand ceremony that will be a fitting finale to this unique journey, and everyone is invited.

Rakhi Ka Swayamvar is a concept that has never seen before on television. The show promises to reveal a seldom-seen side of Rakhi and also provide an insightful glimpse of a roller coaster ride of emotions and tribulations. The ultimate selection of the groom will be made by Rakhi herself with the active help and participation of the audiences.

15 prospective grooms will be found from across the length and breadth of the country through an extensive all-media audition process. As a starting point, interested, prospective grooms will need to send in their profiles for selection. This will be followed by multi-city face to face meetings where these prospective grooms will be short-listed.

Over the duration of the show, the prospective grooms will be brought together under one roof and put through a series of challenges that have been created keeping in mind the criteria identified by Rakhi herself. Each week, the grooms will be put through tasks that will test their personality, character, physical fitness, talent and also their compatibility with Rakhi.
Additionally, Rakhi will be joined by a host of her celebrity friends for certain tasks, who will help her make her decision. In keeping with tradition, Rakhi will also visit the homes of the prospective grooms to get to know their families better. All through the series, viewers will help Rakhi decide, by voting for or against the prospective bridegrooms.
The final week will present the wedding celebrations in all its glory from the Mehendi to the Sangeet and culminating in a real-life wedding for Rakhi with the groom that she has chosen. All of these exciting events will be captured exclusively on Imagine.

Rakhi Sawant said, "Every young woman dreams of a perfect marriage! There is a right time in your life to get married, to become a wife and a mother. I am a cultured Indian woman with good values and I have reached a stage where I need a companion with whom I can share my love, joys, sorrows and success with. For me that time is now… However I want to solemnize my marriage in the presence of all my fans who have been supportive of me throughout and what better way than getting married on national television? I am looking for a companion who is warm, affectionate, someone who can dance a little bit, who respects women for who they are and above all who is punctual. Even Sita had her Swayamvar…so why not me?

Speaking on the occasion Shailja Kejriwal, EVP Content, NDTV Imagine said "Reality has never been so real on TV before. Rakhi Ka Swayamvar is truly a unique concept that will capture all emotions and choices that Rakhi will experience in her quest for the right husband. This is our modern interpretation and adaptation of an age-old tradition of arranged marriages, where we are using the hugely popular platform of television to help Rakhi find her groom and fulfill her dreams. We're very excited with the concept as it will also connect her with TV audiences across the country, the very same people that have made her so popular and successful today.






0 comments Links to this post


Related Posts: Bare Back Actress, Lip - Lip Kiss, Rakhi Sawanth
Post views:
Anuska's lips tight shut attitude :
Gossip and women, they are meant for each other but not so with Anuska. "I've never been the talkative type in the first place. Perhaps, I am too engrossed doing my own thing that I really do not have the time or the inclination to waste time discussing other people. I guess that's something I've imbibed from my parents.
I remember them saying to me that whatever you do, always make sure never to hurt anyone's feelings," says the ravishing actress. Perhaps her reserved ways have got her the tag of being headstrong but the actress does not seem to care. "That is my nature and it's only people who do not know me that think so. But honestly I couldn't care less," she adds.
2 comments Links to this post


Related Posts: Anushka, Lip - Lip Kiss, Naval show, Stunning Actress, Under arm Beauty, Under beauty, Wrong Touch
Post views:
Pistha is the new movie of G.K.Corporation with Shriya Saran and Vishal. G.K.Corporation being the home banner for Vishal is getting this movie ready in both Tamil and Telugu languages.The movie audio is about to release on the 21st of this month and movie on may 14th.Mani Sharma composed music for this movie Pista and Vikram Krishna is the producer.Ayyappa is the director of this movie Pista.
Vishal acts as a village boy and comes to city in search of his sister in Pista.Shriya plays the role of a city girl.The producer said that the movie Pista will provide good comedy and action.It has Brahmanandam,Ali,Dharmavarapu and many other actors for comedy.All the best to Vishal .
0 comments Links to this post


Related Posts: Compromising with Actor, Lip - Lip Kiss, Seduction, Sex Siren, Shriya Saran, Stunning Actress
Recent HOT Posts ::