Post views:
1 comment Links to this post


Related Posts: Awesome Smile, Bare Back Actress, Tapsee, Tattoo on Actress Body
Post views:
Post views:
Yesterday was the premiere time for 'Sneha Geetam' at Prasad Imax. Though not a big star studded event, there was enough attraction as well. Keeping aisde the team of this movie, media was almost running over one hot girl and she is
taapsee
. Wearing a costume that's special in its own design
taapsee
posed hot for shutterbugs.
Few of the media persons have taken her on a special photo session and she was most of the time found enjoying of hogging the limelight. Why not, keeping the main leads of movie like Shreya Dhanwantary and Suhani aside, when media was mulling over
taapsee
she was seen laughing all the time.
Well, atleast for next few days it's going to be the season of
taapsee
in Tollywood.
Post views: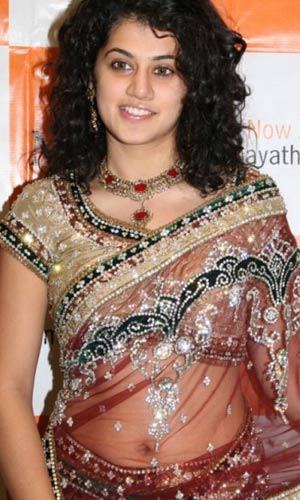 Yes, the talk in Tamil media is catching up fast that most fresh and saucy heroine of South
taapsee
Pannu, the girl from 'Jhummandi Naadam' is getting ready to become a prostitute. After the much spoilt 'Arundhathi' image of Anushka with prostitute 'Saroja' role in 'Vedam,' clever Anushka has put down the offer from Manchu Manoj and RB Chowdary for the same Saroja role in Tamil version of 'Vedam.'
Well, the intimacy of
taapsee
with Manchu family has put her in a complex situation. With pressures from Manoj and Lakshmi Prasanna;
taapsee
is known to have given her assent to take the prostitute Saroja in Tamil 'Vedam.'
So, a sexy
taapsee
is set to become sex worker Saroja. Good work Manoj and Lakshmi Prasanna.
3 comments Links to this post


Related Posts: Bubbly Actress, Milky White Actress, Tapsee
Post views:
Post views:
2 comments Links to this post


Related Posts: Tapsee
Recent HOT Posts ::