Post views:
3 comments Links to this post


Related Posts: Bare Back Actress, Nayanthara
Post views: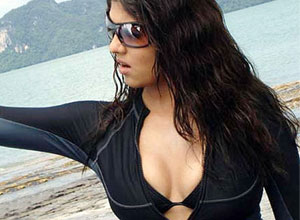 Again it is
nayanathara
and her unofficio relation with choreographer cum director cum hero Prabhu Deva. With days and months passing by and people around including media trying to dig out a pinch of truth behind their hot relation, nothing worked out.
At the same time, Nayan seems to be vexed by the delay that is happening in settlement of her personal life score. Few of the Tamil and Telugu media channels are now spreading it loud that
nayanathara
although feeling satisfactory about her professional life, she wants to get out of rumors by stepping into a new married life with Prabhu Deva.
Result is that Prabhu Deva and Nayan are to get their relation official in the month of October, as per Tamil media. Irrespective of the consent from either families, Nayan is known to have given her nod to make a living even as second wife to Prabhu Deva with a return verbal consent from husband that he makes most of the life with her satisfying her dreams.
So, get ready for one more second marriage in South filmy duniya.
0 comments Links to this post


Related Posts: Nayanthara
Post views:
0 comments Links to this post


Related Posts: cute, hot, Nayanthara, Sexy actress1
Post views:
Popular
South
Indian
actress Nayantara (Nayanthara) is finally set to enter Kannada
films
. Crazy star V Ravichandran is introducing her to Kannada audiences through his forthcoming
movie
Keechaka
(
Kichaka
). Besides acting, he has also taken the responsibility of directing it.
The film Keechaka has two heroines and along with Nayan, popular actress Jayaprada will play another lead lady. This is the first film, which features Jayaprada and V Ravichandran together. Ravi is playing double roles. After the movie Ekangi, he will once again be playing father and son.
Actor Ravichandran started the trend of bringing non-Kannada actress to Kannada films. He has introduced actress like Juhi Chawla (
Premloka
), Khushboo (
Randaheera
), Poonam Dhillon (
Yuddakaanda
) and Namitha (
Neelakanta, Hoo
). Now he is adding one more actress to his list.
Presently, Ravichandran is busy shooting his forthcoming movie
Manjina Hani
. The film
Keechaka
will start shooting from October 18. Nayantara will star alongside Ravichandran, while Jaya will act with his father in the movie.
3 comments Links to this post


Related Posts: Actress at Shooting spot, Actress Butt curve, Nayanthara, Rare Photos, unseen
Post views:
1 comment Links to this post


Related Posts: Cleavage Curve, Naval show, Nayanthara, Tattoo on Actress Body
Post views:
The
South Indian sexy actress Nayanthara
is not in a hurry to deny the love affair between Prabhu Deva and herself since they have worked together in Villu. But the Nayanthara Marriage rumor is denied by source close to this sexy actress.
A local television reported the Nayanthara, Prabhu Deva married as a breaking news also. Sources close to sexy Nayanthara denied this rumor saying that the actress was not even in Hyderabad when rumors of Nayanthara marriage borke.
Nayanthara said to
sify.com
: "Even I heard about my marriage. Isn't that funny? I'm not even in Hyderabad right now. Everyone knows that I am a very open person and when I decide to get married, I will officially announce it to the media. I believe in the institution of marriage and when it happens, it will be with the blessing of my parents. I don't need to do it secretly."
2 comments Links to this post


Related Posts: boob press, Nayanthara, Wrong Touch
Post views:

Nayanthara and Prabhu Deva's rumours of secret marriage :


K
not now?
Nayanthara's 'Prabhu'
tattoo adds fuel to rumours of her secret marriage to Prabhu Deva in Hyderabad
Breaking news of a Telugu channel has it that Nayanthara's married Prabhu Deva secretly in Hyderabad! Kollywood grapevine holds that Prabhu Deva and Nayanthara are the hottest couple in town and does not deny rumours of them being in love ever since they worked together in Vijay's Villu, sources close to the actress have denied the marriage. "She was not even in Hyderabad when rumours of her marriage broke," they said. The choreographer, actor-turned-director Prabhu Deva is a married man with three children, and went through a harrowing time a few months back when he lost his eldest son. The buzz was that it was Nayan, who gave him strength to come out of his personal grief, which was compounded by the fact that his marriage with Ramlath was on the rocks. Sources also attribute Nayan's reluctance to party to her closeness to Prabhu. She withdrew into a shell and cut off all her friends in the industry. Her frequent trips to temples are also attributed to the man in her life, who is an ardent devotee. When asked about Nayanthara, Prabhu Deva said that "it is personal".
Prabhu Deva also went out of his way to improve her onscreen dance movements, as he personally coached her. Recently, he created a stir when he went to Kumarakom at his expense and without taking any fee choreographed two songs that were picturised on Nayanthara for the Malayalam film Bodyguard! The rumours about their affair, was confirmed when the actress tattooed 'Prabhu' (P in English and the rest in Tamil), a little above her wrist at a newly-opened tattoo lounge in Hyderabad. Earlier, Nayanthara had also pierced her nose, while shooting for her Malayalam film Bodyguard in Kerala. It is said she did this because Prabhu loves it! Sources close to the actress say that "they may be in love, but marriage is not on the cards in the near future as they are professionals who are concerned about their careers." Nayanthara is doing one Tamil film and two Telugu films, one with NTR and the other with Ravi Teja, and Bodyguard in Malayalam. Prabhu Deva is making a comeback to acting and is playing the lead in a Tamil film and is directing, the Hindi remake of Pokkiri — Wanted Dead and Alive — with Salman Khan and Ayesha Takia.
3 comments Links to this post


Related Posts: Actress boobs, Boobs Poping Out, Nayanthara
Post views:
Nayantara-Ravi Teja team had rocked Tollywood with a sensational hit, 'Dubai Seenu', a couple of years ago. After that both of them could not work their magic at the Telugu B.O.

Now the rumour has it that Nayan has agreed to do a film with Ravi Teja as the hero. It will be produced by Ganesh Babu and directed by Boyapati Sreenu.

Last year, Nayantara had two high profile releases in Telugu, 'Kathanayagudu' opposite Rajnikanth and 'Salute' with Vishal. While the former was a disaster, the latter did just average business. The same has been the case with Teja, who was not part of a single blockbuster in 2008.

Right now, Nayanthara is a busy with 'Aathavan' in Tamil and 'Body Guard' in Malayalam.
1 comment Links to this post


Related Posts: Compromising with Actor, Nayanthara, Seduction, Sexy actress1, Wrong Touch
Post views:
3 comments Links to this post


Related Posts: Actress BACK, Boobs Poping Out, Nayanthara
Post views:
0 comments Links to this post


Related Posts: Actress BACK, Actress on Bed, fuck, Nayanthara, nude
Post views:
The Latest Rumour In Kollywood About Nayantara And Suriya:
Nayantara and Suriya will soon come together in K.S. Ravikumar's film!Suriya is now acting in cinematographer-turned-director K.V. Anand's Ayan opposite Tamannaah; K.S. Ravikumar is almost done with his Jaggubhai, which stars Sarathkumar and Shriya; and Nayantara is on a signing spree.Well, the situation clearly indicates this combination is quite possible.
Speculations were rife even when Jaggubhai was being launched that Suriya and KSR will do a film soon; it only gained momentum with KSR inviting Suriya for the Jaggubhai movie launch. On the other hand, after walking out of Linguswamy's Paiya, Nayantara has signed a Telugu film opposite Jr. NTR, a film in Malayalam, and is planning to sign a Tamil film to offset the loss of missing a film like Paiya starring Karthi, the new craze of Kollywood. For Nayan, a Suriya-KSR movie would only be a blessing!We will bring you more updates shortly.
8 comments Links to this post


Related Posts: Actress boobs, Actress Nipples, Actress Tight fit dress, Cleavage Curve, Nayanthara, nip slip, Nipple Visible, Wet gallery
Recent HOT Posts ::